Read Time:
8 Minute, 36 Second
One of the most important post-American Civil War sculptors, a world traveller and a native of Abbeyleix.
Lancelot (Launt) Thompson was born in Abbeyleix, then Queens County, on February 8, 1833. His mother, who had no means of support as the potato famine ravaged Ireland, moved to Albany, New York in 1847.
As a teen, Launt began work as an office assistant to a professor of anatomy at the Albany Medical College under Dr. James H. Armsby, where it was said that he was "constantly drawing and sketching on every blank piece of paper he found". Armsby encouraged him to pursue a career as an artist and introduced him to the local landscape painter William Hart, from whom Thompson received some informal training. When sculptor, Erasuts Dow Palmer, saw Thompson's drawings of anatomy, he saw potential in the young man and took him on as an apprentice. Thompson remained as Palmer's protégé for nine years, during which he produced several bust portraits, his first of Dr. Armsby himself and a relief of Dickens' character Little Nell. In 1859, after only about a year he made his New York debut in the Academy's annual exhibition. His work impressed enough to get him elected an Associate member.
He then moved to New York City, a bustling centre for young artists, in 1858, and at the age of 25 and was soon working steadily. It was here he produced several cameos and marble relief portraits, some of which were entered into the National Academy of Design. The young artist's career was beginning to gain more traction and in an 1859 review for Irish America Weekly, Rose Madder wrote that Thompson's cameos were "unrivalled in the delicacy of their execution". The New York Herald in 1865 said of Thompson, "Launt Thompson's genius gives more promise of a future that will leave him without a living superior in sculpture".
In 1886, Thompson completed his first large sculpture, a bronze statue of Napoleon. It was said that it was "beautifully harmonious, wonderfully individual – a real creation, a triumph in art". It was exhibited at the Exposition Universelle in Paris in 1867.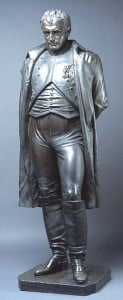 Thompson continued to exhibit his work at the Academy until the 1880s and was elected to the Council in 1863, a year after being elevated to Academician, and he served as a Council member in 1867-68 and 1871-72 and as vice-president in 1872-73. He returned as a Council member for the 1873-74 term.
It was said that Thompson had a likeable personality and was well connected with notable New Yorkers such as the famous actor Edwin Booth (brother of John Wilkes Booth) and the affluent Astor family. Thompson cultivated an active social life. He frequented the famous Pfaff's Cellar restaurant and bar on Broadway and was considered one of the new avant-garde artists and writers referred to as "bohemians." A coterie that poet Walt Whitman would later emerge from, along with writers Fitz-James O'Brien and William Winter.
Thompson joined the Lotos Club and the Union League Club and he also became a well-known host himself. A quote from the wife of his close friend, the poet and journalist Thomas Bailey Aldrich, may have hinted at problems to come: "Mr. Launt Thompson's studio was one of the largest, and as he was always a great favorite, choice spirits were to be met there day and night."
In 1868, he briefly stayed in Paris, France but then went on to Venice, Italy, before moving on to Florence where he visited the Irish-American sculptor, Hiram Powers. Here he got to see some of the greatest sculptures in history, taking inspiration from past masters such as Michelangelo, Donatello and Da Vinci. He later returned to Paris and completed his "Grand Tour" in London, where he spent some time with the Royal Academy, the British Museum and Windsor Castle. He then moved back to New York City in 1869.
He was elected vice-president of the National Academy of Design (1872-1873) and was awarded an honorary degree by Yale University in 1874. He went on to create a statue for the town of Pittsfield, Massachusetts, a life-sized statue of Lieutenant General Winfield Scott, which was placed in front of the Old Soldiers; and Airmen's Home in Washington D.C.
It was during this time, 1871 that he married Maria L. Potter, daughter of Bishop Alonzo Potter, who lived in Schenectady, New York, not far from where Thompson lived in his youth, so they may have met as young adults. Shortly after the birth of their first child, Lancelot Clarkson, they moved to Florence, Italy. Thompson did well here, having better access to stone and bronze and he flourished in Italy completing many commissioned portraits. While in Florance, the couple had two more children, Marriette Benedict and Florance Howard.
Thompson here completed his only nude sculpture, entitled "Unconsciousness", in 1881. This work was not commissioned and is considered a labour of love for Launt. It was inspired by the story of a woman who, as a child, was kidknapped by Native Americans, was later returned to her family but chose instead to live with her adopted tribe and married its Chief.
While in Italy, Thompson's behaviour started to become erratic and his drinking became a problem. His mental health deteriorating, Launt returned to New York alone in 1881. Once back in New York, separated from his family and the social life he'd helped to engender, he quarrelled with friends and was ejected from some of his gentleman's clubs.
It's not known why Maria chose to stay in Florence, perhaps just not wanting to leave the life they had built. In a history of the Potter Family, her half-brother, Frank Hunter potter wrote, "To say that we were welcome when we went to Florence is to understate it. I had the good fortune to spend many months practically in her household, and I never was happier." He also said, "Her house became a resort of what was most distinguished and dignified in Florentine society. Her weekly receptions were delightful affairs."
Monuments dedicated to the memory of the Civil War were very popular in the 1880s, and Thompson was responsible for several: "The Eagle On The Globe" for the United States Regulars Monument in Murfreesboro, Tennessee, and a statue of Admiral Samuel Francis Dupont, commissioned by Congress and first placed in Washington's Dupont Circle but later moved to Rockford Park in Wilmington, Delaware. The most important one, however, was his only equestrian statue, that of General Ambrose Everett Burnside, ceremoniously unveiled in Kennedy Plaza, Providence, Rhode Island, on July 4, 1887.
After 1887, Thompson's life seems to have declined. Probably due to a combination of loneliness and overwork. Without his wife and her active social circle, he retreated into himself. He was still receiving commissions, which may have been a source of the problem: too much solitary work.
He was arrested on December 2, 1890, at the behest of the artist John Snedecor, with whom he was sharing lodgings. Apparently, after a ten-day drinking binge, Thompson proceeded to trash the premises. While being arrested, his behaviour became even more erratic and there was an indication that he was suffering from delirium tremors. Thompson's arrest was covered by The New York Herald in an article entitled "Arrest of a Sculptor," subtitled: "Liquor Drives Launt Thompson Crazy and a Policeman Has to Take Care of Him." In fact, his arrest made just about every newspaper in the country, from big cities to small towns, as this piece from the December 11, 1890 edition of Michigan's Bay City Times attests, "A few years ago Launt Thompson, the sculptor, was the lion of New York Society. He was the style, and while in the swim married a daughter of Bishop Potter. But social position, artistic ambition, success and a large income were thrown to the winds in the gratification of his appetite for strong drink, and a few days ago he was arrested for vagrancy and committed for a month to Blackwell's Island, at the end of which time a commission will enquire concerning his sanity."
It's unlikely that he could have continued to drink in jail, so his decline at this point may have been due to progressive mental illness. For unexplained reasons he was then transferred to the State Homeopathic Asylum for the Insane in Middletown, New York. He continued to create in confinement, finishing a bas-relief of Little Talcott, the son of a Supervisor in the facility.
The next news of Thompson was his obituary in The New York Times, September 27, 1894. The brief article covers the highlights of his professional life: "In 1858 he went to New York, and having shown a remarkable talent for medallion portraits, he found ample employment. He became an associate of the Academy of Design in 1859, and three years later his bust of The Trapper secured his election as an academician . . . Yale conferred upon him the honorary degree of M.A. in 1874."
The Times makes no mention of the circumstances of Thompson's death, which was attributed to throat cancer. His passing was also covered by practically every major newspaper in America.
His oldest daughter, Mariette Benedict, worked as a nurse in France throughout the war. She received the Croix de Guerre in 1919 for her courageous work, and later became a successful sculptor in her own right, exhibiting in Paris and New York. She moved to the United States, married American businessman Lawrence Hayworth Mills, Jr., and settled in Morristown, New Jersey. They later moved to Paris, where they became friends with many writers and artists, especially Marcel Duchamp and Constantin Brancusi.
When he died on September 26, 1894 at the age of sixty-one, Launt Thompson was a resident of the New York State Homeopathic Asylum for the Insane in Middletown. His grave, in Middletown's Hillside Cemetery, Section 13, lot 1610, Grave 1, remains to this day unmarked. Sadly, no one attended his funeral.