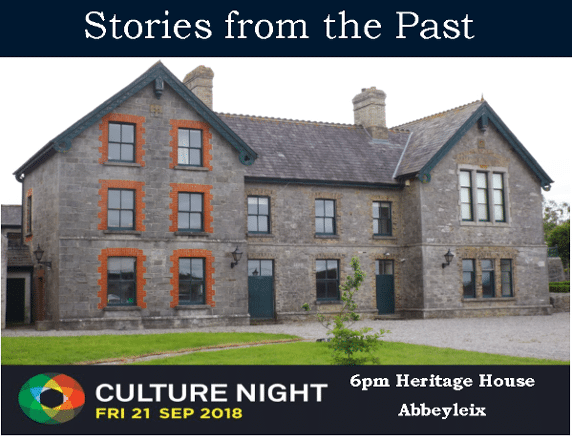 Culture Night 2018 at Heritage House Abbeyleix presents:
Stories from the Past 
Children from primary and secondary schools in Laois will read stories collected during the schools collection initiative in the 1930s and add new stories of their own to this collection.
There are 1,128 volumes, numbered and bound, in the Collection. A title page prefaces each school, giving the name of the school, the parish, the barony, the county and the teacher. A further collection of approximately 40,000 of the children's original copybooks are stored at the NFC. You will find some of the stories here, you may even be lucky enough to find some written by a family member or neighbour.
The Folklore Collection was a scheme was initiated by the Irish Folklore Commission, under the direction of Séamus Ó Duilearga and Séan Ó Súilleabháin, Honorary Director and Registrar of the Commission respectively, and was heavily dependent on the cooperation of the Department of Education and the Irish National Teachers' Organization. It was originally to run from 1937 to 1938 but was extended to 1939 in specific cases. For the duration of the project, more than 50,000 schoolchildren from 5,000 schools in the 26 counties of the Irish Free State were enlisted to collect folklore in their home districts. This included oral history, topographical information, folktales and legends, riddles and proverbs, games and pastimes, trades and crafts. The children recorded this material from their parents, grandparents, and neighbours.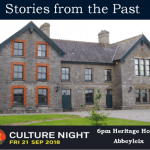 Come along to Heritage House Abbeyleix from 6pm on September 21st to hear stories about the Highway Man Captain Grant, the tale of the hidden treasure and stories of the old games that were played by children during this time.