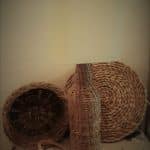 'Handmade with Care'
The idea for our pop-up exhibition 'Handmade with care' came from our research of some of the women who made an impact on the heritage town of Abbeyleix. Women like Lady Selina Elizabeth Vesey, the wife of the first viscount of Abbeyleix, established a lace manufactory on the Abbeyleix estate to employ up to fifty local girls, the profits from which provided the women with an education. Lady Emma de Vesci, the wife of the 3rd viscount Thomas, established a very progressive Linen Baby Society in 1845. While, Mary Murphy, gatekeeper to the estate at Blue Gate House had a pre-school in the morning, and employed local women to knit items for distribution to England and further afield in the afternoons. Moreover, without the encouragement of Lady Evelyn de Vesci, the wife of the 4th viscount, and aunt of the 5th viscount Ivo, the world renowned Abbeyleix Carpet Factory may never have been established.
This exhibition is dedicated to all those entrepreneurial and progressive women who ensured the continued education, support, and employment for the women of Abbeyleix.