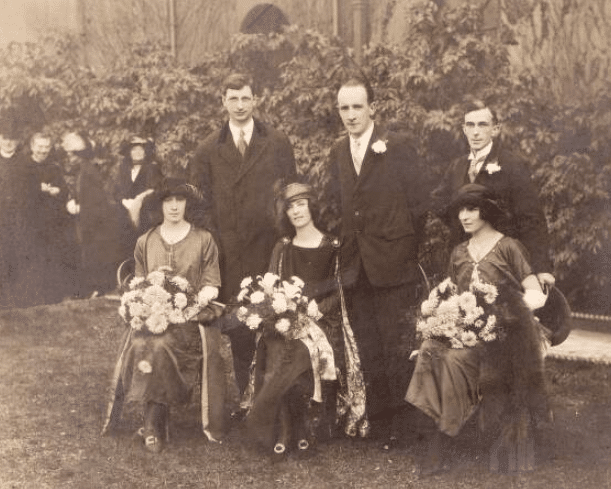 On this day 6th of December 1921 the Anglo-Irish treaty was signed by a group of plenipotentiaries who believed that the treaty they were signing was the best option they would receive from the English Crown and their group of hard core politicians, promising total and bloody war if the treaty was not agreed upon. According to Michael Collins, the Treaty that they signed on this day 97 years ago was just a mere stepping-stone to obtaining a Republic. The Queen's County representative during the Treaty negotiations was Kevin Christopher O'Higgins, a native of Stradbally, Co. Laois. O'Higgins had been asked by de Valera to attend the negotiations in England but he declined, citing his impending marriage to the Knockbeg English teacher, Brigid Cole.
It is during the ratification stages of the Treaty negotiations that we truly get O'Higgins opinion on the signing of the Treaty. Throughout the revolutionary movement, O'Higgins professed that he would not falter in his stance on independence. For example, he stated to a group of constituents at a Sinn Féin rally in 1919:
'I was elected on the issue of Irish Independence. I will never take hand or part in accepting a lesser status in settlement of the country's claim.'
Even after the signing of the Treaty, O'Higgins stood by his belief 'that there is, and must be, a Republic'. In another debate on the Treaty O'Higgins expressed his aspirations for independence in Ireland:
I would impress on members that they sit and act here to-day as the representatives of all our people and not merely as the representatives of a particular political party within the nation. I cannot simply regard myself as the nominee of a particular political party when an issue so grave as this is at stake. To ratify this Treaty, it has been said, would constitute an abandonment of principle, and it has been said that to ratify the Treaty would be a betrayal to those who died for Irish independence in the past. I said in Private Session, and I say here again now, principle is immortal.'
O'Higgins' was anxious, based on his principles, with signing the Treaty. However, he had no choice but to sign it for political and pragmatic reasons. He was there, in Dáil Éireann as a representative of the Irish people and claimed he could not 'plunge the plain people of Ireland into a terrible and immediate war for the difference between the terms of the Treaty and what they knew a united Cabinet would recommend to the Dáil'.
War was inevitable though as the Anglo-Irish Treaty and the terms attached to it became a divisive force in the revolutionary movement. Men who were previously comrades and close colleagues became enemies, ready to face each other in a bitter civil war. This can be seen most poignantly in O'Higgins' wedding photograph: on O'Higgins' right stood Éamon de Valera, the symbol of the Republic prior to the signing of the Treaty. On the left stood Rory O'Connor, O'Higgins best man, and close friend throughout the War of Independence.
O'Higgins may have become the 'strong arm' of the Irish Free State a year later, looking at his letters sent back home to his wife during the Treaty negotiations, held in the University College Dublin Archive, it can be said that he was genuine in his want for an independent Ireland.
We will be holding a talk in January to commemorate the sitting of the First Dáil Éireann so keep an eye out on our events page for further details.